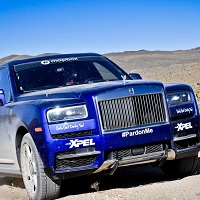 Topics for Nik Miles and Truck Girl Jen:
Toyota's Yash Shah runs down the details on the new 2020 Toyota Highlander

While in Miami, Nik got the opportunity to check out the Mini Electric, and he gives his take

Elizabeth Williams recaps the Rebelle Rally win for Rolls Royce

Green Car Journal has announced the winner of their Luxury Green Car of the Year Award, and Dave Barthmuss from Karma tells us what the win means to them

Looking for a good deal on a car? Nik has the perfect website for you!

Anton Wahlman discusses General Motors heading towards driverless vehicles, and checking in on the Jeep Wrangler franchise

Speaking of Jeep Wrangler, in Nik's driveway this week was the Jeep Wrangler Rubicon Diesel, and you can tow a boat with it..... even if it's been sitting in storage for nearly a decade!