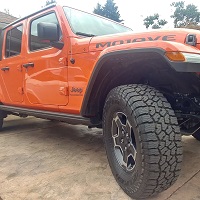 Topics for Nik Miles and Truck Girl Jen:
Ram introduces their Built To Serve edition for their trucks. Ram's Mike Koval joins us with the details

The biggest family member of the MINI model family is back! BMW's Pat McKenna has everything you need to know about the new Countryman

Jeff Zurschmeide has your tips and tricks for getting that car that's been sitting for months back in tip top shape

Buick's Rob Peterson stops in to share the latest and greatest on the Encore GX

Range Rover's Joe Stauble is in a celebratory mood, as the company is celebrating their Golden Jubilee, 50 YEARS of quality vehicles

Is Volkswagen on schedule with the release of the ID.3 in Europe? Will sales start on Volvo's Polestar 2 in China this week? All these questions and more for our own Anton Wahlman as he runs down our automotive news

Ford announces what they call their "Toughest, most productive" F-150 ever. Our own Perry Stern stops by to give his take

Nik took to the streets this week in the Jeep Gladiator Mojave, hear what his thoughts were on it right now!